A Letter From Antonio Villaraigosa
Dear Angelenos,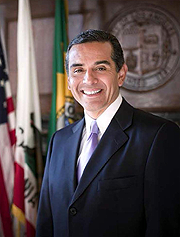 I love this city with all my heart and soul. The opportunity to serve as Mayor has been a privilege of a lifetime. Most gratifying has been the opportunity to work with so many inspiring Angelenos who love their city as much as I do.
THANK YOU for the opportunity to serve. Thank you for daring to dream with me. Thank you for rooting for us when we swung for the fences, and also for not losing faith, even when we missed the ball. Thank you for knowing that at the very least, we tried our very best.
From Boyle Heights to Baldwin Hills, San Pedro to Sylmar, Van Nuys to Venice, this is the best city in the world. We are a leading metropolis, teeming with the magical energy of our diversity of race, place and possibility. We are a hub of innovation and inspiration.
On July 1, 2005, many songs and prayers were offered in the Cathedral of Our Lady of Angels, guiding us in our first steps on our journey from that day to this—the future we dreamed of, worked hard for, fought for, and that we now hold in our hands to give forward. The words of one song were about weaving "one heart from many strands."
I have always believed in the saying "Dime con quien andas y te dire quien eres"—tell me with whom you walk, and I'll tell you who you are. I am proud to have walked with you these eight years, and with the team whose story is in these pages. Our story of many accomplishments is one story of how we gave our whole hearts,woven of
the many vibrant strands of L.A.
Sincerely,
Antonio R. Villaraigosa
June 2013
In the News
Villaraigosa leaves office with his key goals for L.A. accomplished
LA Times, June 28, 2013
Antonio's Farewell Message – YouTube, June 29, 2013
An Infographic Summary
Enlarge image (PDF - new window)
Connect

E-mail us at info@TheVillaraigosaYears.com

Find Antonio on Facebook

Follow Antonio at Twitter
About
"STRAIGHT FROM THE HEART OF LA" is a pictorial and descriptive summary of Antonio Villaraigosa's two terms as Mayor of Los Angeles, from July 1, 2005 to June 30, 2013. Use the PDF buttons below to review the full booklet or individual chapters.
Full Booklet
Table of Contents
Click on a chapter to download its PDF...